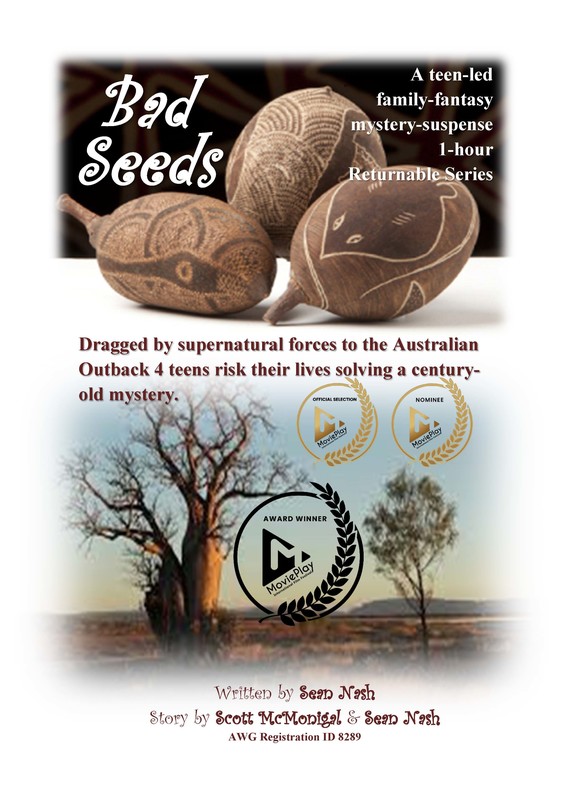 Approaching their 16th birthdays twins Hannah and Josh, and their besties Bree and Randy, have no idea they are being dragged by supernatural forces into risking their lives to solve a 100-year-old mystery.
Writer Biography
Commencing his career as a passionate but unpaid studio floor sweeper Sean Nash worked his way up to his first directing gig on Crawford Productions' hit, ground-breaking, genré-mashup "Cop Shop".
He followed that with his first writer-director credit for the now-iconic "Prisoner: Cell Block H", still currently screening in territories round the world.
In the years since, Sean's screenplays have been shortlisted for two prestigious State Premier's Literary Awards and won four AWGIES (Australian Writers' Guild Awards) from eight nominations.
His work as a writer-director has earned an AFI (Australian Film Institute) Award.
Sean's most recent writing credit, for the musical drama feature film "6 Festivals", is currently streaming on Paramount+ following a theatrical release which included the 2022 Sydney Film Festival and the 2022 Melbourne Film Festival.
Sean Nash – Writer

6 Festivals – Co-Writer – Feature film Above The Law – Supervising Producer – 1-hour series (Columbia Tri-Star) A Country Practice – Writer – 1-hour medical drama All Saints – Writer, Script Editor – 1-hour medical drama Balmain Boys – Producer, Co-Writer – Telemovie (Columbia Tri-Star) Big Deal – Creator/Script Producer – Mini-Series (ABC-3 – Development) Breakers – Writer-Director – ½ hour long-form (Screentime) Carson's Law – Director – Period legal drama (Crawfords) City Homicide – Writer – 1-hour police procedural Cop Shop – Director – 1-hour crime drama Echo Point – Writer – ½-hour long-form (Southern Star) E-Street – Director, Writer – 1-hour series (Westside) Fish International – Writer-Producer-Director – Lifestyle series (Beyond) Headland – Writer – 1-hour long-form Home & Away – Writer-Director – ½-hour long-form Neighbours – Writer – ½-hour long-form (FremantleMedia) New Me – Writer – Feature film (Pre-production) Paradise Beach – Writer-Director – ½-hour long-form Pirates – Co-Writer-Producer-Dir