About Project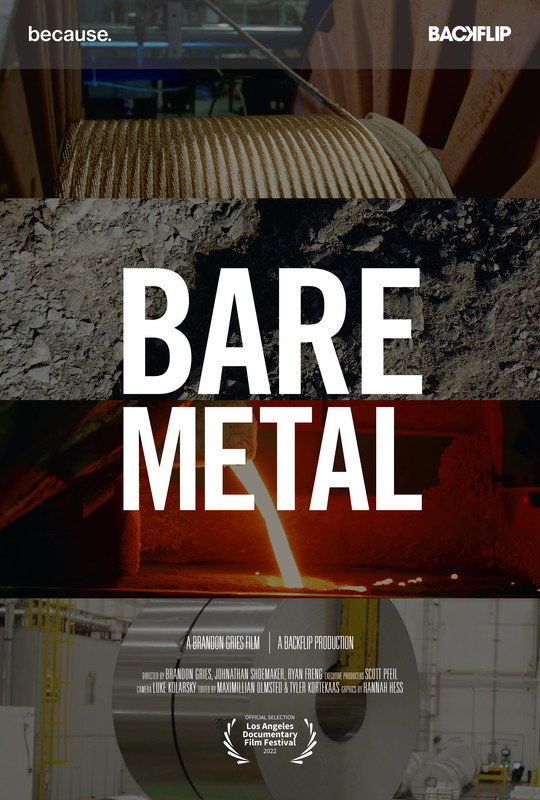 Microsoft, Google, META, and AWS are some of the biggest single-power consumers in the world. Along with other digital infrastructure companies' consumption, they make up 2.4% of the world's energy use. This film details the digital infrastructure industry's work to reduce their carbon footprint in an effort to lower carbon emissions and help save the world.
Director Biography – Brandon Robert Gries, Ryan Freng, John Shoemaker
Brandon Gries is an engineer. He works for an electrical contractor. For 10 years he's built data centers. He's aspired since childhood to be a filmmaker. This is his first film. Only due to the faith, trust, and collaboration with his friends in film (Backflip), data centers (Google, Microsoft, Equinix) and industry (contractors, concrete, steel, aluminum) was this possible. He learned of your inaugural film contest at Bloomberg Green in New York City, April 2022. His first inspiration was to do a film with my wife Ashley, who works professionally in environmental conservation. He shifted to an even bigger story about his own industry in July 2022 instead. He have dedicated this film to her.
Ryan Freng and John Shoemaker are seasoned veterans of the production world, running a commercial agency for 15 years and having produced both long form and short form films. Their previous documentary 'Power in My Hands' tells the personal stories of those majorly impacted by the power of the Rosary. Ryan and John have worked with Brandon for years on promotional work. Learning of Brandon's desire to make movies, John encouraged him to pick a film festival and punch the throttle. This is the result of that collaboration.
Project Credits
Brandon Robert Gries – Director
Ryan Freng – Director
Power in My Hands
John Shoemaker – Director
Power in My Hands
Brandon Robert Gries – Writer
John Shoemaker – Writer
Power in My Hands
Ryan Freng – Writer
Power in My Hands
Brandon Robert Gries – Producer
Brandon Robert Gries – Executive Producers
Scott Pfeil – Executive Producers
Ryan Freng – Cinematography
John Shoemaker – Cinematography
Luke Kolarsky – Cinematography
Maximillian Olmstead – Editors
Tyler Kortekaas – Editors
Hannah Hess – Graphics
David Gottfried – Key Cast
"Chief Commercialization Officer, Blue Planet Systems, Founder: U.S. and World Green Building Councils"
Ali Ruckteschler – Key Cast
"VP, Chief Procurement Officer, Equinix"
Nancy Novak – Key Cast
"Chief Innovation Officer, Compass Datacenters"
Dean Nelson – Key Cast
"Founder & CEO, Infrastructure Masons, CEO, Cato Digital"
Christian Belady – Key Cast
"Vice-President & Distinguished Engineer – Data Center Development, Microsoft"
Joe Kava – Key Cast
"Joe Kava, Vice President of Data Centers, Google"
Philip K Bell – Key Cast
"President, Steel Manufacturers Association"
Kevin Dempsey – Key Cast
"President and CEO of the American Iron and Steel Institute"
Charles Johnson – Key Cast
"President and CEO, The Aluminum Association"
Stacy Smedley – Key Cast
"Executive Director, Building Transparency"
Rosemary Barnes – Key Cast
"Founder, Pardalote Consulting and Engineering with Rosie"
Tabitha Stine – Key Cast
"General Manager of Construction Solutions, Nucor Corporation"
Brent Constantz – Key Cast
"CEO & Founder of Blue Planet Systems"
Colin Wessells – Key Cast
"Founder and CEO at Natron Energy"
Kevin Brown – Key Cast
"Senior Vice President, EcoStruxure Solutions, Secure Power Division at Schneider Electric"
Christie Gamble – Key Cast
"Senior Director of Sustainability at CarbonCure Technologies"
Brigette Douglass – Key Cast
"President/CEO of NTT Training, Inc."
Amy Marks – Key Cast
"VP Industrialized Construction, Queen of Prefab, Autodesk"
Johnson Agogbua – Key Cast
"Founder & CEO, Kasi Cloud"
Ken Cowen – Key Cast
"Senior VP of Sales, Enchanted Rock"
Tom Schott – Key Cast
"President and CEO, Cupertino Electric, Inc."
Craig McKesson – Key Cast
"Chief Customer & Marketing Officer at T5 Data Centers"
Kay Firth-Butterfield – Key Cast
"Head of AI & Machine Learning and Member of the Executive Committee, World Economic Forum"
Chris Downie – Key Cast
"CEO – Flexential"
Tony Grayson – Key Cast
"General Manager, Quantum – Compass Data Centers"
Matt Koerner – Key Cast
"Principal at Critical Project Services"
Scott Hannah – Key Cast
"Chief Revenue Officer, Cumulus Data"
Karim Shaikh – Key Cast
"Chief Technology Officer at Cato, Faculty at Carnegie Mellon University"
Joe Reele – Key Cast
"Vice President – Solution Architects, Schneider Electric"
Matt Robinson – Key Cast
"CTO – Rahi"
Teri Klug – Key Cast
'"Vice President of Business Development and Strategic Alliances at CATO"'"Vice President of Business Development and Strategic Alliances at CATO"
Kyle Self – Key Cast
"VP of Engineering, Blue Planet Systems"
Jessica Maderos – Key Cast
"Lead Process Engineer, San Francisco Bay Aggregates – a Blue Planet Systems Company"