About Project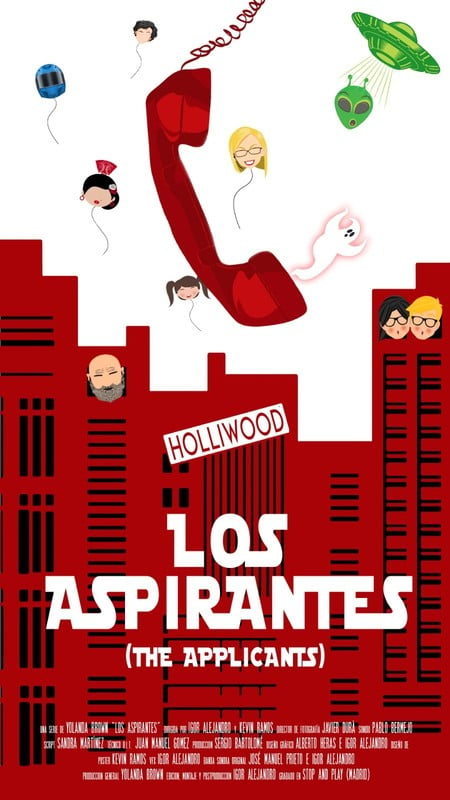 It is a hilarious comedy set in an office called Holliwood where everything turns into a desaster. Every single person in the office is tempted into getting a better job and they compete with the applicants for that purpose. Most of the situations a really surrealistic and funny so you never know what is going to happen.The more jobs offered, more situations to laugh at. Who needs the job?.
Director Biography
-FILMOGRAFÍA DEL DIRECTOR/A
Director: Kevin Ramos.
Director de cine y actor nacido en Alicante, actualmente residiendo en Madrid. Estudió dirección de cine en "La Ciudad de La Luz" (Alicante) en el año 2012, y ganó un premio en el festival de cine de Valencia contra la drogadicción ese mismo año. Ha dirigido cortos, videoclips y capítulos piloto. También ha trabajado como director de fotografía y actor en varios proyectos. Tras llegar a Madrid hace un año comenzó a potenciar su carrera compaginando ambas facetas.
Directora: Yolanda Brown Melián
Profesora, escritora, actriz, producción y dirección, nacida en Tenerife y de padre inglés, actualmente reside en Madrid. Siempre al otro lado de las cámaras o escribiendo ideas e historias en papel hasta el día en que se ha decidido a producir y dirigir Los Aspirantes, una obra de carácter independiente de género comedia y ficción donde se resaltan diferentes aspectos de la sociedad plasmados en los personajes estereotipados y donde la mujer tiene un papel principal por los personajes femeninos de la misma y por el carácter de reivindicación de igualdad en el papel de uno de los personajes.
Primer asistente de dirección y técnico: Igor Alejandro Romero Martínez
Productor audiovisual, musical y publicista radicado en Madrid, ha participado en la creación de diferentes formas de comunicación audiovisual.
Dirección de series, cortos, videoclips, documentales deportivos, programas de entrevistas, etc.
Trabaja en la dirección, edición, montaje y bandas sonoras de los proyectos en que participa.
Ha realizado bandas sonoras para Hollywood en series y películas de nivel mundial.
Project Credits
María Yolanda Brown Melián – Director
Kevin Ramos Fernández – Director
María Yolanda Brown Melián – Writer
María Yolanda Brown Melián – Producer
Jordi Rubio Bobet – Key Cast
"Tom Barder "
José Montiel – Key Cast
"Oscar Comphy "
Antonio Miguel Carmona – Key Cast
"Dan Barder"
Yolanda Font – Key Cast
"Sofia Vergana & Irina Kurnikova "
Angelica Martín Gil – Key Cast
"Annie Barder "La Guay" "
Ramon Monje – Key Cast
"Fran John "The Rock""
Daniel San Nicolás García – Key Cast
"Daniel Flamingo "
Esther Urbina – Key Cast
"Shumi González "
Adriana Gil – Key Cast
"Rose Fernández "
Gala Bichir – Key Cast
"Emi Fernández "
Soumaya El Jaouhari – Key Cast
"Sara Salomé " The Gypsy""
Perceval Velosillo – Key Cast
"Paul de Wasp "
Carlos Urrutia – Key Cast
"Carlos Random"
María Yolanda Brown Melián – Key Cast
"Mary Brown "The Blondie""
Laura Aguado – Key Cast
"Alice Halls & Laura "Beacaria" "
Ethan Ramos Fernández – Key Cast
"Ethan "Becario""
José Santa Clara – Key Cast
"Vladimir Puten "
Javier Arriazu – Key Cast
"Philip Martínez "The Finger""
Eduardo Castejon – Key Cast
"Kinu Méndez "
Hans Vara del Rey – Key Cast
"Romeo " The Gigolo" "