About Project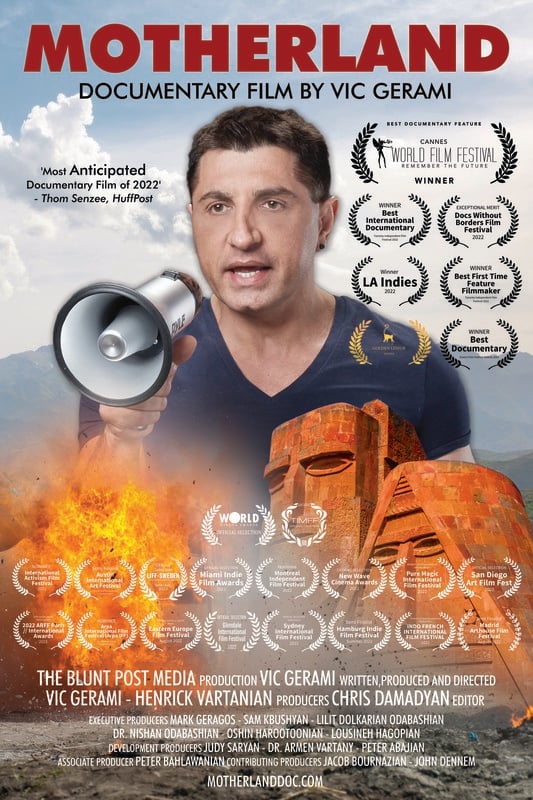 It took 106 years before the United States formally recognized the Armenian Genocide of 1915 at the hands of the Ottoman Turks. On April 24,2021, President Joe Biden became the first US president to officially recognize the Armenian genocide and to recommit preventing such an atrocity from occurring again. Tragically, history is repeating itself with Turkey's ongoing genocidal attack and ethnic cleansing against Armenians as we've witnessed recently in Artsakh. "Motherland" tells the story of this ongoing tragic chapter through the lens of Armenian-American journalist and LGBTQ+ activist, Vic Gerami.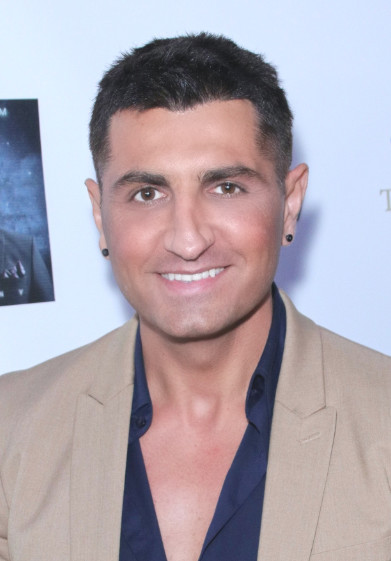 Vic Gerami is an award-winning journalist and the editor + publisher of The Blunt Post. Gerami is also the host and co-producer of the national headline news + politics program, THE BLUNT POST with VIC on KPFK 90.7 FM (Pacifica Network).

Today reaching national, international audiences, Gerami first built a foundation of knowledge and skills by learning the media industry during his years at Frontiers Magazine, followed by positions at LA Weekly and Voice Media Group.
Gerami's radio program, TBPV, covers national, regional, and local headline news, politics, and current events, and Gerami offers analysis and commentary. He also interviews a high-profile member of Congress or other high-profile public figures on each show. His recent guests include Congressman Adam Schiff, Senator Bob Menendez, Congresswoman Jackie Speier, Governor Howard Dean, Congresswoman Katie Porter, Congressman Brad Sherman, Congressman Mike Levin, Congresswoman Maxine Waters, and Congresswoman Judy Chu, LA District Attorney George Gascon, among many others. You can listen to all the interviews here.
Gerami is also a contributor for some of the most prominent publications in the nation, including Windy City Times, Bay Area Reporter, Armenian Mirror-Spectator, The Advocate, The Immigrant Magazine, GoWeHo, Destination Luxury, OUT Traveler, The Fight, and among others.
The Wall Street Journal featured Gerami as a "leading gay activist" in its landmark 2008 coverage of opposition to Proposition 8, the ballot measure that for years denied same-sex couples in California the freedom to marry. In addition to his years of volunteer work as a leading advocate for marriage equality, Gerami served as a Planning Committee member for the historic Resist March in 2017.
In 2015, Gerami was referenced in the landmark Supreme Court civil rights case, Obergefell v. Hodges, in which the Court held in a 5–4 decision that the fundamental right to marry is guaranteed to same-sex couples by both the Due Process and the Equal Protection Clauses of the Fourteenth Amendment to the United States Constitution.
Project Credits
Vic Gerami – Director
Vic Gerami – Writer
Vic Gerami – Producer
Henrick Vartanian – Producer
Senator Bob Menendez (D-NJ) – Key Cast
"Himself "
Congressman Adam Schiff (D-CA) – Key Cast
"Himself "
Congressman Frank Pallone (D-NJ) – Key Cast
"Himself"
Vic Gerami – Key Cast
"Himself "
Congressman Brad Sherman (D-CA) – Key Cast
"Himself"
Congresswoman Katie Porter (D-CA) – Key Cast
"Herself "
Congresswoman Barbara Lee (D-CA) – Key Cast
"Herself"
Congresswoman Jackie Speier (D-CA) – Key Cast
"Herself "
Alexander Lapshin – Key Cast
"Himself"
Dr. Irina Ghaplanyan – Key Cast
"Herself "
Zareh Sinanyan, High Commissioner of Diaspora Affairs, Republic of Armenia – Key Cast
"Himself"
Edmon Marukyan, Head of 'Bright Armenia' Party – Key Cast
"Himself"
Baroness Caroline Anne Cox, Crossbench Life Peer, British House of Lords – Key Cast
"Herself "
Councilmember Paul Koretz – Key Cast
"Himself"
Mahammad Mirzali – Key Cast"Himself"
Nicholas Aznavour – Key Cast
"Himself "
Kristina Aznavour– Key Cast
"Herself "
Professor Barlow Der Mugrdechian – Key Cast
"Himself"